We lived in Chile in the 1980s while Pinochet was President. Next Sunday this country of 20 million, faces a starkly polarized choice in a runoff presidential election, the likes of which they haven't seen since the 1970 election that brought Marxist Salvador Allende to power.
The choice pits the far right against the radical left: a 55 year old lawyer, ultra conservative, Pinochet fan and father of nine, Jose Antonio Kast, or a 35 year old unmarried leftist and former student leader, complete with tattoos and beard, Gabriel Boric.
Chile has the world's largest lithium deposits. Lithium is strategically important to manufacturing electric batteries and a key element to the global transition to clean, green energy. It is also one of the world's top copper producers - another mineral critical in the production of clean, green power.
Joining us for the podcast from the capital Santiago, to analyze the race will be John Bartlett. John is covering the election for The Guardian newspaper and lives in Chile.
With a population of 6 million, greater Santiago comprises almost 1/3 of the nation's population. Located inland about 90 miles from the Pacific Ocean and the port of Valparaiso, the snow capped Andes are visible to the East of Santiago.
Chile's market economy has been enormously successful. Instituted by Milton Friedman's protégés, known as the Chicago Boys and starting in 1974, poverty rates have been slashed. In 1990 68 % of the population lived in poverty versus 8% today. And the nation's savings rate and ability to create capital, rivals that of Asian markets like Singapore and Hong Kong.
But Boric vows to scrap the private pension plan - similar to the US' 401k plan, but universal - which underpins Chile's economic success story.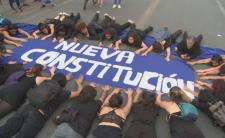 But those economic gains risk being undone by a new leftist dominated Constitutional Convention. Chile has been drifting leftwards for the last 10 years and a new Constitution could institutionalize that ideological trend.


A left dominated Constitutional Convention was created by outgoing conservative President Sebastian Piñera last year. But Kast's narrow first round victory indicates Chileans may be having second thoughts about the future direction of this beautiful country.
So make sure to listen to John Bartlett from Santiago in Friday's podcast about this polarized election between Boric and Kast.